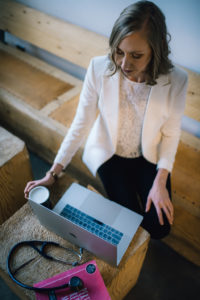 The struggle is real.
The frustrations are understandable.
It can be annoying to be a woman. You just want to feel like yourself. You want to be able to do the things you want to do (or, let's be honest, the things you have to do sometimes) with freedom, motivation, energy and confidence.
You shouldn't have to go to med school to understand your cycle.
You're in the right place if you're in search of natural and effective solutions for:
Period Problems
You are tired of feeling guilty for just wanting to hibernate because of period cramping and frustrated for canceling plans and missing out.
You're worried about leaking in public and are self-conscious about going to the bathroom every hour to change your pad or tampon because your periods are so heavy.
You're concerned about your irregular period because you're thinking of starting your family soon and know a healthy period is important for fertility.
You aren't willing to go on the birth control pill but are sick of dealing with this every single month.
Naturopathic treatments and preventative care for the following conditions:
Painful periods or cramping
Irregular periods (loss of your period, cycles that are short or long)
Regulating your period after coming off of birth control
Heavy periods
Endometriosis
Fibroids
Ovarian cysts and PCOS
PMS
Peri-menopausal/menopausal symptoms (hot flashes, vaginal dryness, night sweats, insomnia, libido changes)
Naturopathic services offered for Period Problems:
Comprehensive hormonal testing, food sensitivity testing
Treatment options such as herbs, nutrients, diet and lifestyle counselling, acupuncture and homeopathy