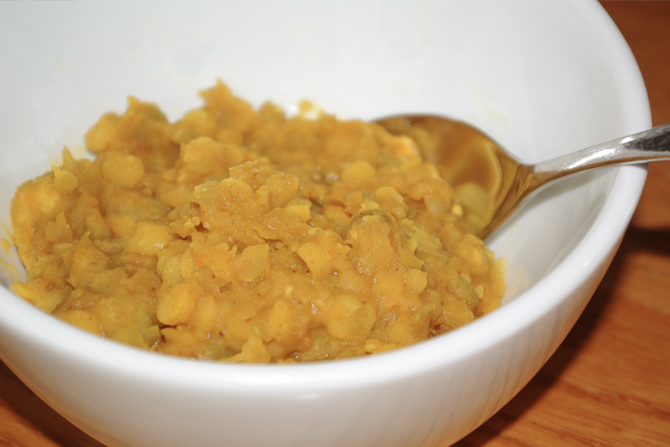 Warming split pea and carrot soup
This soup is hearty and warming, perfect for a cold winter's day or even a rainy summer's eve. I like to serve my soups like this one atop a handful or green leafies (such as spinach, chard or kale) with the heat of the soup wilting the greens. Or enjoy the soup with a side salad! If the heat of cayenne pepper bothers you, decrease the amount or omit altogether.
Serving size: 4-6
Ingredients
1 tbsp extra virgin olive oil
1 onion, finely chopped (about 2 cups)
2 garlic cloves, finely chopped
2 large carrots, coarsely grated (about 1 cup)
1/8 tsp cayenne (ground red pepper)
½ heaping tbsp (=1 ½ tsp) curry powder
2 cups split peas (yellow or green or both)
8 cups cold water
sea salt and black pepper to taste
Directions
In a large saucepan over medium heat, heat the olive oil and add the chopped onion. Cook gently for 2-3 minutes or until tender.
Add garlic and carrot and cook for 2-3 minutes further, stirring often until softened.
Next, add in the cayenne and curry powder and cook for 1 minute or until fragrant.
Add split peas and cold water, bring up to the boil then reduce heat and simmer for 50-60minutes. Stir occasionally throughout the cooking time, more frequently towards the end. If you prefer the soup thinner, add additional water.
Season to taste with sea salt and black pepper in the last 10 minutes of cooking. Serve hot and enjoy!
Notes
Blend with a hand blender (immersion blender) or carefully in a regular blender if you desire a smoother consistency.